Gideon Redoak
by Anne Fraser
By Light Unseen Media, August 15, 2009
Raised by a stern, puritanical father Gideon Redoak considered himself a worthless sinner.
Life eased for him somewhat with his father's death. Gideon was now Baron Redoak. He grew closer to his sister and his mother and helped them in ways impossible while his father lived.
"I was very young and didn't know that evil could walk abroad in the guise of a handsome man" [Gideon looking back at his first meeting with Etienne.]
Evil encroached on his happiness. The seductive vampire Etienne Corbeau insinuated himself, telling Gideon how very much he was loved, but Etienne lied. He betrayed Gideon. Turned him into a vampire slave. Tortured and abused him without pity until one day, with the help of Evan Jones and Genevieve de Monet, he is rescued. They gave sanctuary to Gideon, a safe place to heal mentally and physically.
"I see a young man who was cruelly betrayed. I see a fledgling vampire who has learned the darkest possible ways of our kind, who knows only the blood and the killing, but who has not surrendered to them. I see someone who is stronger than he believes, who has survived the unthinkable. I see a wound that needs healing, but a wounded one who is not beyond hope." [Genevieve on first meeting Gideon.]
To Genevieve vampires need not be predators. They can tame their urge and sustain themselves in other ways. She also teaches him how to use his powers and what their limitations are.
Evan introduces Gideon to Le Societe des Gardiens, a movement created to rid the world of monsters like Etienne, and teach vampires that killing is not necessary for survival.
For all the pain Gideon had to endure he never lost his basic decency. He joins the Societe's crusade, eventually journeying to the new world to band with other paranormal inhabitants. Ones that have his ideals.
There were times I forgot I was reading fiction. Fraser constructs characters so real, so believable that I felt like I was right there with them. Her writing has a beautiful poetic rhythm. I've tried to convey that in the quotes above. Of course you have to read everything in context to completely understand.
I would sum things up this way - Gideon Redoak's story of a vampire's perilous existence is a gripping tale told through the poetic writing of Ann Fraser.
Ann Fraser Remembered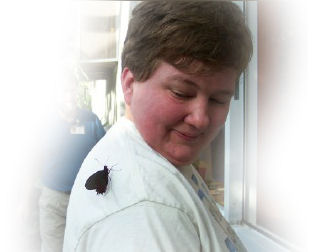 Sadly Anne did not live to see the publication of this, her first print book.
Her friend and publisher Inanna Arthen has this to say,
"
Although Anne lost a courageous battle with cancer in April, 2008, she will live forever in the memories of her friends and through her lively and entertaining fiction." Read more about Ann at By Light Unseen Media