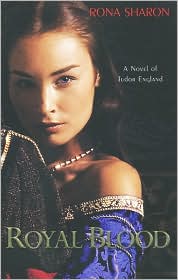 Royal Blood
by
Rona Sharon
Kensington (April 1, 2009)
[Reviewed by Patricia]
In the year 1518 Tudor King Henry VIII sits on the throne of England and Catherine of Aragon is still his beloved queen. Knights from across the realm gather for the annual Order of the Garter celebration with its exciting and dangerous jousting tournaments. From Ireland comes the devastatingly handsome Michael Devereaux representing the house of Tyrone to which he is heir. Unfortunately only a few weeks before he leaves for court he falls severely ill with a sweating sickness from which he never completely recovers. Only the draught made for him by the castle healer gives him the energy he needs to face each day.
From France comes the smart, willful, and beautiful Princess Renee. She has been sent to Henry's court on a mission to find the whereabouts of the mysterious "Ancient". Renee and Michael eventually meet. In Tudor England there is plenty of intrigue. Our hero and heroine become involved with one another as well as with the many dangerous conspiracies.
Renee and Michael feel an immediate attraction, but Renee is never sure whom she can trust and thus keeps Michael at a distance, for awhile anyway. Tensions for everyone increase when two women - one a harlot and one a lady-in-waiting to the queen - are murdered, each drained of blood. Michael is asked by Cardinal Wolsey to find the perpetrator. During this investigation Michael begins to discover his own true origins.
Author Rona Sharon atmospheric description rings true, even down to the Tudor style language. The pace is languid but never boring and when necessary the pace does pick up. The two main characters are engaging and the minor ones, often true historical persons, are quite believable. I won't give away the ending but there could definitely be a sequel. It's one I would be happy to read.
This compelling historical romance subtly reveals its paranormal element. For this reason I believe that those who usually shun anything to do with the paranormal, or in this case vampires, might want to give Royal Blood a try.