See the trailer for
Immortal Bride (Silhouette Nocturne)
by Lisa Childs. Harlequin March 1, 2009.
From the publisher: For generations, local residents have whispered about an evil menace lurking near the shore of the Lake of Tears. The recent murder of landowner Damien Gray's bride, Olivia, confirms the worst. Now, confused and heartbroken, Olivia's spirit survives death and seeks vengeance upon the man she desired more than life itself, the man she now suspects was her killer—Damien.
But an angry shaman has his own vicious agenda, one that will bring Damien to understand his Native ancestry. Steamy passion and ancient vendettas will draw them ever deeper into a drama of a family's legacy, murder and a love so strong it can withstand even death.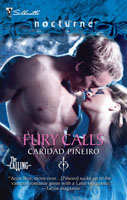 Caridad Pineiro writes about her vampire series The Calling on
Harlequin's Paranormal Romance Blog
"Caridad Pineiro brings you more luscious vamps in her series The Calling with two recent releases – the short story Honor Calls from Silhouette Nocturne Bites, and Fury Calls, in stores now from Silhouette Nocturne! Caridad is here to tell you more about both books and how she couldn't resist making some sexy secondary characters into heroes on their own…"
Read More
The publisher Orbit offers More Dresden Files by Jim Butcher -
Turn Coat (The Dresden Files, Book 11)
(April 7, 2009).
"To get you in the mood for the next eagerly-awaited installment of the Dresden Files, we thought we'd pass on a few sample chapters of Turn Coat, out in hardback in April." Read more
here.
Go to
TrueBloodNet.com
to watch a feature. "This fan video was made by nall0526 on YouTube done to the song "Light On" sung by David Cook. This song sounds so powerful and follows Bill and Sookie's strong love for each other throughout episodes 1- 12. No matter what the difficulties they may endure they will always be drawn to each other and have each other. Enjoy!"


From National Geographic News
Exorcism Skull Found in Italy
Read the story
here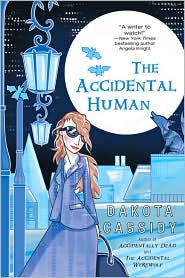 CONTEST
At
Bitten By Books
there is a chance to win one of ten copies of
The Accidental Human (Accidental Friends, Book 3)
by Dakota Cassidy. The contest ends on 3/18/09 at 11:59 pm PDT and the winner will be contacted the following week.
Moving On Up: 'Need' by Carrie Jones
By Shannon Maughan --
Publishers Weekly
,03/05/2009
Read an
interesting article
on publicizing the young adult, paranormal romance
Need
Bloomsbury, 2008