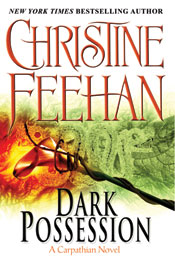 The
Paranormal Romance Writers
have recently released the list of finalists for the 2008 Pearl Award (Paranormal Excellence Award for Romantic Literature). There are eleven categories: Best ANTHOLOGY; Best FANTASY/MAGICAL; Best FUT
URISTIC; Best NEW AUTHOR; Best OVERALL PARANORMAL; Best SCIENCE FICTION AND FANTASY; Best SHAPESHIFTER; Best SHORT STORY/NOVELLA; Best SHAPESHIFTER; Best TIME TRAVEL;
And
Best
VAMPIRE
!
This is a great place to add titles to your overflowing TBR list!
Winner of best Vampire for 2007 -
Dark Possession (Carpathian Novels)
by Christine Feehan with Honorable Mention going to
Lover Revealed (Black Dagger Brotherhood, Book 4)
by J. R. Ward.
Congratulations to Neil Gaiman!
It was announced this morning that Neil Gaiman's
The Graveyard Book
has won the 2009 Newbery Medal. The Newbery, along with the Caldecott Medal for picture books, represent the pinnacle of achievement in children's literature in the United States. It is awarded by the Association for Library Service to Children of the American Library Association, and is an astounding accomplishment for any writer.
Read more on Tor.com
The Witchy Chicks
Some of my favorite authors write for this blog.
"We're nine wicked-good women who write about magic, fantasy, and the paranormal. We write across the board--all genres, really. From urban fantasy to mystery, from romance to erotica, from novels to novellas to screenplays to nonfiction, we cover most of the bases between us. From NY publishers to ebooks, we cross yet more boundaries."
Members: Yasmine Galenorn, Linda Wisdom, Lisa DiDio, Madelyn Alt, Terey Daly Ramin, Candace Havens, Kate Austin, Annette Blair, and Maura Anderson.
Devon Monk guest blogs at Voyager Online
. Topic: Why I write Urban Fantasy.
Monk is the author of
Magic to the Bone (Allie Beckstrom)
and the upcoming sequel
Magic In the Blood (Allie Beckstrom)
Roc, May 5, 2009.
Find a
great gift idea
for the vampire aficionado in your life. Excellent choice for Valentine's day or any romantic occasion.
Here's a recent headline
CW Taking Bite Out of Vampire Fad With "Vampire Diaries" Plot
The CW network has picked up the pilot based on L. J. Smith's Vampire Diaries. My fingers are crossed. I hope they do a good job with this one.
Most recent book in the series is
The Vampire Diaries: The Return: Nightfall
The Urban Fantasy Award winners have been announced. Go
here
to find out the winning titles.
Listen to an
interview with
Lynda Hilburn author of
The Vampire Shrink (Kismet Knight, Vampire Psychologist series)
and
Dark Harvest (Kismet Knight, Vampire Psychologist series)
.

Dark Side of the Net
has a list of Vampire Sites. My thanks to them for mentioning Patricia's Vampire Notes.
Sidhe Vicious Reviews
Amanda Ashley's newest vampire romance
Night's Pleasure
, Zebra (February 1, 2009)
Jeanne C. Stein author of the Anna Strong Chronicles (latest is
Legacy (Anna Strong Vampire Chronicles, Book 4)
)has taken the plunge and joined that crazy bunch at
The League of Reluctant Adults
. There is a contest for some Anna Strong books. The contest runs through Feb. 13.