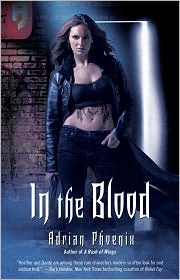 Below is the review I wrote for Library Jounal (Dec. 15, 2008)

Phoenix, Adrian. In the Blood
.

Pocket: S. & S.

Jan. 2009. c.400p. ISBN

978-1-4165-4145-5

. pap. $15.
Dante Baptiste leads the popular rock band Inferno. He is also a vampire, one with an enormous amount of strength, much of it untamed because of a mind so tortured that any attempt to bring up frightening childhood memories causes searing pain and seizures. FBI agent Heather Wallace has a special bond with Dante and can often calm him during these difficult moments. Unfortunately, the person who can help him the most has left this plane to fight a battle in Gehenna—Lucien is an Elohim, a fallen angel, as well as Dante's father. For more than 2000 years, the Elohim have waited for a creator to unite them. Lucien, who distrusts all other Elohim, wants to protect the knowledge that Dante was born a creator. Meanwhile, Heather and Dante are being pursued by agents of a secret agency and others who wish to use Dante's prowess in their own mad search for vengeance. Phoenix's sequel to A Rush of Wings
is an imaginative, deftly plotted, dark urban fantasy with believable, well-drawn characters. Recommended for all fantasy fiction collections.
Reprinted with permission of Reed Business Information.