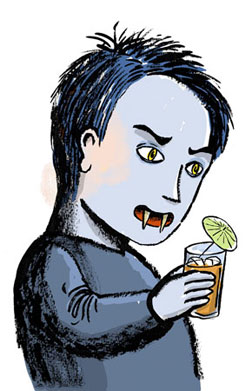 Vampires Suck:

Actually, they don't. And that's the problem.

Slate. Posted Tuesday, July 28, 2009


Last week at Comic-Con, the big story wasn't comic books—it was vampires. Some 2,000 young women set up a tent city outside the San Diego Convention Center on Tuesday, sleeping rough so that they could attend the Thursday panel on
New Moon
, the upcoming sequel to vampire blockbuster
Twilight
.
Read more...

Illustration by Robert Neubecker
Michelle Rowan
announces, "I'm very, very happy to report that I have accepted a deal with Penguin to write two urban fantasies about…wait for it…VAMPIRES!
However, these will not be fun-loving, wise-cracking vampires like in my Immortality Bites series. These are the scary kind...
Read more
UPCOMING VAMPIRE & WEREWOLF MOVIES

Save up your movie money. Cinematic bloodsuckers--and shapeshifters--are lurching into theaters in droves. Whether you like your creatures of the night sparkly, horrifying, comedic, or furry, you'll have no trouble finding a film to suit your paranormal tastes. Here's a peek at some of the major trends in upcoming vampire and werewolf movies.... Read more
This article can also be read at VampChix a new blog site begun by author Michele Hauf. Yours truly will be posting there once a month with new releases of vampire books. Authors if you have such a book coming out, please send me an email at paltner@verizon.net.
On her
blog Charlaine Harris
, whose vampire mystries spawned HBO's True Blood, has very kind words to say for Suzanne McLeod's
The Cold Kiss of Death (Spellcrackers)
and
Red-Headed Stepchild (Sabina Kane)
by Jaye Wells.
The Cold Kiss of Death (Spellcrackers)
All Genny wants is to live the quiet life and to do her job at Spellcrackers.com, but there's her tangled personal life to sort out first. She's being haunted by ghosts who want her help. Her witch neighbours want her evicted. Genny's sort-of-Ex - and now her new boss - can't decide whether he wants their relationship to be business or pleasure. And then there's the queue of vampires all wanting her to paint the town red - how long will it be before they stop taking no for an answer? But when one of her human friends is murdered by sidhe magic, Genny is determined to find the killer. She needs help to find the real murderer, and that means calling on some of the most capricious and seductive fae - but her search is hindered by the vampires, who have their own political agenda. All the evidence points to Genny - she's the only sidhe fae in London - and she's named the main suspect; it's not long before she's on the run, not just from the police, but from some of London's most powerful supernaturals.
Red-Headed Stepchild (Sabina Kane)
In a world where being of mixed-blood is a major liability, Sabina Kane has the only profession fit for an outcast: assassin. But, her latest mission threatens the fragile peace between the vampire and mage races and Sabina must scramble to figure out which side she's on. She's never brought her work home with her---until now.
This time, it's personal.
Attention Authors and Readers.
Have some vampire news to share? Leave a comment or send an email to paltner@verizon.net