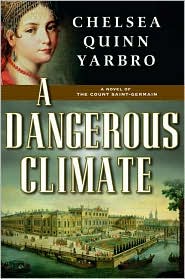 A Dangerous Climate: A Novel of the Count Saint-Germain (St. Germain)
by Chelsea Quinn Yarbro
Tor Books (September 30, 2008)
[Reviewed by Sandy Rainey]
The twenty-second book in Chelsea Quinn Yarbro's Saint-Germain series finds the gentleman vampire in the Russian city of St. Petersburg at its birth early in the 1700s. Czar Peter the Great is erecting his new city in the most inhospitable climate imaginable (hence the title): Winters are brutally cold and snowy, and summers are humid and teem with disease. Saint-Germain's one reported encounter with the clever, indomitable czar involves a tankard of beer and the czar's refusal to take no for an answer; it is one of the highlights of the book and is not to be missed.
A number of things elevate this particular outing above the average Saint-Germain offering. First, there is the exciting in medias res kickoff: Saint-Germain awakes more dead than alive in a St. Petersburg marsh where, hours or days earlier, he was set upon by unknown assailants who got the better of him and left him for dead. He has no memory of the attack and is unsure who wanted him dead and why. His incapacitation takes him to the tiny care-house (hospital) that has been established in St. Petersburg, where he meets Ludmilla Borisevna Svarinskaya, a standard-issue Yarbro femme whose cad of a husband's behavior has landed her in this godforsaken place with little more than her dignity, her intelligence, and her calling to help the afflicted so as not to dwell on her own unfortunate circumstances. Saint-Germain is drawn to her, but initially he has far too much to deal with to act on his attraction.
Gradually we learn exactly how delicate his position in St. Petersburg is: He is living there under an assumed identity, serving as a spy for the Polish king. He is posing as a Polish nobleman who has gone missing, accompanied by the missing nobleman's wife Zozia, who has come to St. Petersburg with Saint-Germain and is also participating in the espionage. Their mission is not only to attempt to discover what has become of her husband, but also to keep apace of developments in Peter's new city, advancing Polish interests all the while. Zozia is another Yarbro archetype familiar to longtime readers, the shrill, sensuous, impetuous, demanding paramour who so often lands the Count in danger. Her saving grace is that she is a motivated and loyal Polish subject who relishes and excels at her job as mole; she is willing to subjugate her own desires for king and country, though all too happy to toss thoughts of her missing husband aside when news of his whereabouts is not forthcoming.
With his redoubtable manservant Roger at his side, Saint-Germain works to recover from his injuries, further the causes of the Polish king, and protect the secret of his true identity and vampiric nature, while keeping Zozia stable and satisfied and cultivating an interest in Ludmilla and her care-house (he has never lost his fascination with the healing arts, born millennia earlier when he worked in the Egyptian temple of Imhotep as a sort of nurse). He moves in the highest circles of society, but intrigue lies everywhere, and the smallest misstep can mean disaster; his situation becomes more precarious when a new Polish king comes to power and complicates the St. Petersburg mission.
Nothing, though, can prepare our hero for the shock of the day when a dapper nobleman dressed in Saint-Germain's own trademark black and white arrives, declaring himself the Count Saint-Germain and laying claim to Saint-Germain's vast fortune. How can Saint-Germain retain his holdings and protect his identity without revealing that he is not who he claims to be? Enter Aumtehoutep, centuries-old servant of Saint-Germain's departed lover Olivia, a familiar character with whom devoted readers will be happy to become reacquainted.
A Dangerous Climate
is a superior Saint-Germain outing, marred somewhat only by an anticlimactic denouement. The historical setting—St. Petersburg in its infancy—is fascinating, and Saint-Germain's unaccustomed role as faux husband and spy adds zest. Only a general petering-out of the action and a handful of unresolved loose ends keep this from reaching the highest echelon of Saint-Germain novels.
Reviewed by Sandy Rainey for Patricia's Vampire Notes