Evil Ways (Quincey Morris 2)
by Justin Gustainis. Solaris, 2009.
This fast paced adventure begins in April, 2003 as five men, under cover of the American assault on Baghdad, enter the Iraqi National Museum. Their goal is to obtain an ancient text kept in the depths of the museum inside a vault. Only one man survives this dangerous theft.
The action then switches to Istanbul where the ultra wealthy Walter Grobius awaits delivery of the treasure known as The Book of Shadows by Abdul Alhazred. Those who have read the works of horror writer H. P. Lovecraft will recognize Alhazred as the author of the fictional
Necronomicon
. Grobius's personal magician, Pardee, mentally follows the progress of The Book until it is ultimately delivered by the sole survivor of the Bagdad operation. This book of evil magic will be needed for a ritual to take place on
Walpurgis
Night - a time of weakness in the boundary between the living and the dead.
In order for the magic to work great sacrifice is needed. Occult detective Quincey Morris, has joined forces with FBI special agent Fenton to look into the brutal killings of children that have taken place in various parts of the country. It is clear from the victims' bodies that their organs were removed while they were still alive. Fenton, a man with an open mind, suspects a link to paranormal activity. He also knows the best detective for such occurrences is Morris. Now it is up to Morris and his partner white witch Libby Chastain to track down the killers and stop then before they can unleash unimaginable malevolence. Adding to their difficulties is the fact that white witches are being dispatched by the same nasty people. Libby has barely escaped with her life. Other Wiccans have not been so lucky.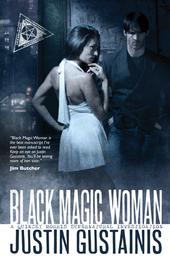 The plot is much more complex than I can describe here, but trust me when I say there is never a dull moment. Not only is the story line involving but the each character, not just the main protagonists, are intriguing. This is the 2nd book in the series.
Black Magic Woman (Quincey Morris, Book 1)
being the first. Readers of Bram Stoker's
Dracula (Literary Touchstone Edition)
will recognize the Quincey Morris name as belonging to one of the Count's foes. The detective in this series is a direct descendant. A vampire or two makes an appearance in Evil Ways but have little to do with the plot.